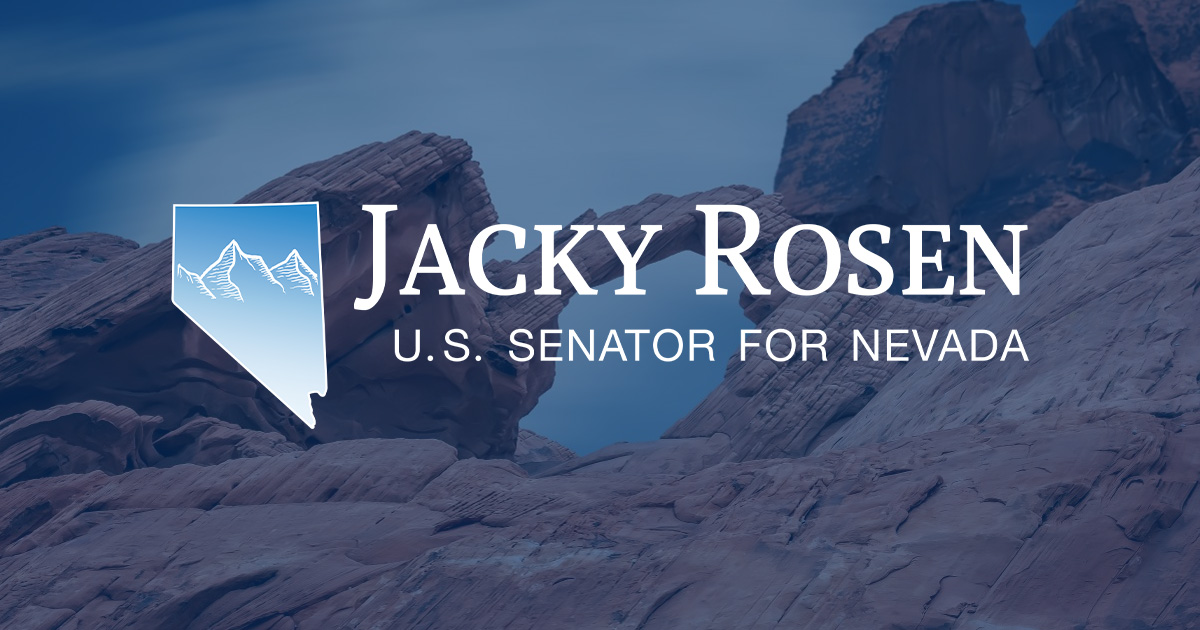 Rosen Office Assisted 1,150 Constituents with Federal Issues, Helped Secure More Than $2 Billion in Federal Grants for the State, and Brought Nearly $5.8 Million to Nevadans from the Federal Government Through Casework
Senator Rosen Introduced Nine Bipartisan Bills That Have Been or Will Be Signed Into Law, Introduced or Co-Led 19 Pieces of Legislation That Passed The Senate In 2021
LAS VEGAS, NV – Today, U.S. Senator Jacky Rosen (D-NV) released an annual review of her Senate office's accomplishments passing bipartisan legislation, getting things done for Nevadans, and helping constituents directly with cases involving federal issues.
At the state level this past year, Senator Rosen's office assisted 1,150 constituents with cases dealing with federal issues, brought nearly $5.8 million to Nevadans from the federal government through casework, and helped secure more than $2 billion for Nevadans through federal grants. Senator Rosen's staff attended more than 4,000 meetings and calls with Nevadans and responded to nearly 200,000 constituents.
In Washington, Senator Rosen introduced nine pieces of legislation in 2021 that have been or will be signed into law. She also introduced or co-led 19 pieces of legislation that passed the Senate. In total, 92% of the 50 pieces of legislation introduced by Senator Rosen this year have been bipartisan, and she was ranked as one of the most bipartisan Democratic members in the Senate.
Some of this year's major legislative highlights include Senator Rosen passing the historic American Rescue Plan, helping draft and negotiate the final Bipartisan Infrastructure Law, shaping the annual national defense bill as a member of the Senate Armed Services Committee, and championing Nevada's economic recovery in her new role as Chairwoman of the subcommittee overseeing tourism.
"As we reflect back on 2021, I'm glad to have continued my track record of delivering top-notch constituent services and building relationships with colleagues on both sides of the aisle to get things done for Nevada," said Senator Rosen. "Over the past year, my office has been hard at work helping families and businesses get the resources they are owed from the federal government, while working in a bipartisan way to pass meaningful legislation that will benefit Nevadans. As we continue to fight the COVID-19 pandemic and support Nevada's economic recovery, it's an honor to serve the people of our state."
OFFICE HELPING NEVADANS THROUGH CONSTITUENT SERVICES
Assisted 1,150 constituents with cases dealing with federal issues

Brought nearly $5.8 million to Nevadans from the federal government through casework

Helped secure more than $2 billion for Nevadans through federal grants

Returned another $250,000 to the U.S. Treasury from her Senate office budget

Attended 4,325 in-person and virtual meetings and calls

Responded to 196,329 constituent calls, emails, and letters
LEADING AND PASSING LEGISLATION WITH BIPARTISAN SUPPORT
Introduced nine pieces of bipartisan legislation that have been or will soon be signed into law

Introduced or co-led 19 pieces of bipartisan legislation that passed the Senate

Co-sponsored four additional bills that were signed into law

Filed 23 floor amendments, four of which were included in bills that passed the Senate

Introduced 44 bills and six resolutions overall, and co-led an additional 37 pieces of legislation

92% of legislation introduced by Senator Rosen has been bipartisan

Ranked as

one of the most bipartisan Democrats in the Senate

by the Lugar Center's bipartisan index

Cast 528 votes in the Senate this year
WORKING ACROSS PARTY LINES, DELIVERING FOR NEVADANS
Bipartisan Infrastructure Law: As part of the bipartisan group of 22 Senators who negotiated and drafted the Infrastructure Investment and Jobs Act, Senator Rosen was "one of the architects of the legislation." Senator Rosen helped write key airport and broadband sections of the landmark bill, which are delivering the most significant investment in American infrastructure since the interstate highway system.
The Bipartisan Infrastructure Law included three different bills and one amendment introduced by Senator Rosen:
Middle Mile Broadband Deployment Act:

I

nvests $1 billion in broadband infrastructure to connect internet carriers to local networks and community institutions in order to increase broadband access to unserved and underserved communities.

TOURISM Act:

Requires the Department of Transportation to develop an immediate and long-term strategy for using infrastructure investments to revive the travel and tourism industries in the wake of the COVID-19 pandemic.

Cyber Sense Act:

C

reates a program at the Department of Energy to test the cybersecurity of products and technologies intended for use in the bulk-power system.

Wildfire Highway Repair Amendment:

Adds wildfires as a specified damage for which federal assistance from the National Highway Performance Program may be used to rebuild damaged highways.

National Defense Bill:

Senator Rosen

helped shape

this year's National Defense Authorization Act for Fiscal Year 2022 as a new member of the Senate Armed Services Committee to ensure it included

key priorities for Nevada's servicemembers and defense installations

.
The final defense bill – now poised to become law – incorporated five bipartisan bills introduced by Senator Rosen:
US-Israel Cybersecurity Cooperation Enhancement Act of 2021

: Establishes a $30 million five-year grant program at the Department of Homeland Security to support cooperative cybersecurity research and development between entities in the U.S. and Israel.

CISA Cyber Exercise Act

: Provides businesses and state governments with model exercises to test their critical infrastructure against the threat of cyber-attacks, and establishes a National Cyber Exercise program to test the U.S. response plan for major cyber incidents.

Advancing American AI Innovation Act:

Creates a Department of Defense pilot program establishing artificial intelligence (AI) data libraries relevant to the development of AI software and technology, ensuring private companies can better meet DoD needs.

Reservists Opportunity Act

: Gives soldiers in the Army Reserve and National Guard greater access to active duty opportunities by allowing them to securely access the Army's Tour of Duty system from their personal devices.

Military PFAS Testing Disclosure Act

: Requires the Secretary of Defense to publicly disclose the results of any testing for PFAS conducted on military installations.
American Rescue Plan: Senator Rosen voted for this historic economic relief and tax cut legislation responding to the COVID-19 pandemic. Among many other provisions, this rescue package delivered relief to Nevada's small businesses through new EIDL grants, expanded PPP loans, and direct aid to restaurants.
U.S. Innovation and Competition Act: Senator Rosen helped pass this major bipartisan package through the Senate in June to strengthen America's leadership in research and technology and increase our competitiveness with China. USICA includes three of Senator Rosen's amendments, based on legislation she helped introduce, to support advanced manufacturing jobs and promote rural STEM education and workforce development.
Championed Nevada's Tourism Economy: More than any other state, tourism is key to Nevada's economy. Senator Rosen has already held five hearings as Chairwoman of the newly formed Subcommittee on Tourism, Trade, and Export Promotion. She is now co-leading a comprehensive bipartisan package focused on restoring the nation's travel and tourism industry, which advanced through the full Senate Commerce Committee in December.
Spearheaded Legislation Critical to Nevada: Senator Rosen introduced dozens of bills to address key concerns to Nevadans, including 11 bills to expand access to health care, lower health care costs, and combat the pandemic; 10 bills to invest in STEM education, advanced manufacturing, cybersecurity, and artificial intelligence; eight bills to support our veterans, servicemembers, and first responders; seven bills to help small businesses and entrepreneurs; four bills to protect our public lands and prevent wildfires; and four bills to increase access to affordable, high-speed broadband.
Successfully Pushed SBA to Increase Small Business Relief: As a member of the Senate Committee on Small Business and Entrepreneurship, Senator Rosen led a year of advocacy pushing to raise the cap on Economic Injury Disaster Loans (EIDL). In September, the Small Business Administration (SBA) responded and raised the caps to $2 million, delivering a win for Nevada's small business community.
No CORRUPTION Act: This bipartisan Rosen-introduced bill, which would bar former Members of Congress convicted of felonies related to their official duties from collecting their taxpayer-funded pensions, passed the Senate unanimously.
​​​​​​​Resolution Condemning Antisemitic Violence and Harassment: This bipartisan Rosen-introduced resolution condemning the recent rise in antisemitic attacks and urging the President to take specific actions to address antisemitism passed the Senate and was co-sponsored by nearly three-quarters of the chamber. Rosen is the founder and co-chair of the Senate's Bipartisan Task Force for Combating Antisemitism.
​​​​​​​40 New Federal Judges Confirmed: Senator Rosen helped confirm 40 new federal judges who will bring diversity and experience to our courts. This year marks the most judges confirmed by the Senate to lifetime appointments on the federal bench in the first year of any recent president.
​​​​​​​Launched the bipartisan Women in STEM Caucus in the Senate: Senators Rosen and Shelley Moore Capito (R-WV) launched the Senate's first Women in STEM Caucus, a new bipartisan group that will work to advance women's participation in STEM education and careers by providing a forum for discussion and legislative collaboration.
​​​​​​​Launched the Senate Caucus on Black-Jewish Relations: Along with Senators Tim Scott (R-SC) and Cory Booker (D-NJ), Senator Rosen launched this first-of-its-kind bipartisan collaboration in the Senate to strengthen Black-Jewish relations and combat racism and antisemitism.
​​​​​​​​​Completed Bipartisan CODEL to Middle East, Europe: During the week-long international trip in November, Senator Rosen visited NATO and European Union (EU) headquarters in Belgium, participated in the annual UN Climate Change Conference (COP26) in Scotland, conducted oversight of Afghan refugee processing efforts firsthand in Qatar and spoke with U.S. military and foreign leaders, and met with senior leaders in Israel and Germany, including Israel's Prime Minister.
###

https://www.rosen.senate.gov/2021-review-senator-jacky-rosen-recaps-year-legislative-accomplishments-success-helping-nevada