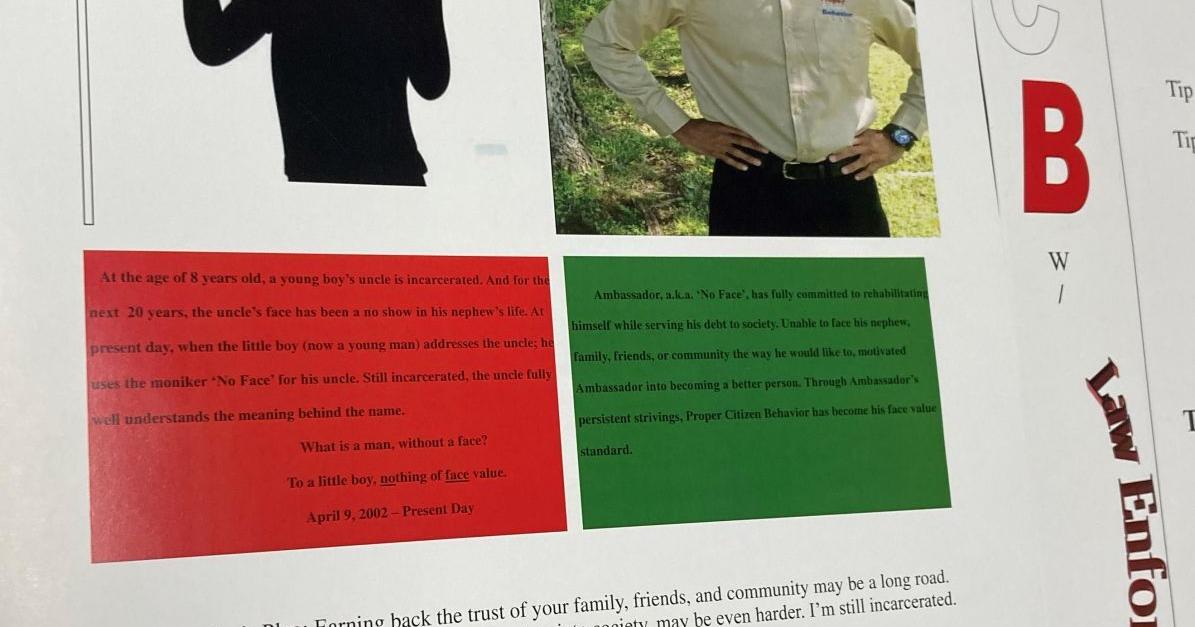 Raymond E. Green has an important message for all drivers.
His "The Proper Citizen Behavior Stop Guide" is a behavioral program to educate people on proper citizen behavior during a traffic stop by law enforcement, in an effort to deter bad habits and criminal behavior, and protect both citizens and law enforcement. The slogan for the campaign is "Improper Behavior May Have Been Yesterday. Today: Proper Citizen Behavior."
Green had been taught Godly principles throughout his life, but chose another path.
He was arrested at age 18 for burglaries and robberies that he and an accomplice carried out using toy guns. No one was injured, but two years later he was tried, convicted and given a 56-year sentence. Under the 70 percent law, unless there is divine intervention or some legislative changes, he won't be eligible for parole until he has served a little over 39 years.
While in prison, Green started living his faith. Around 2018-19 he thought if he should get to come home on furlough, he would like to go speak to the young people in the Independence County Juvenile Detention Center to help them understand that now was the time to make changes in their lives.
The juvenile detention center closed, and then there was the pandemic, and the prisons shutdown furloughs and in-person visits. Green was scheduled to come home on furlough in August 2021, but another wave of the virus canceled that.
He started thinking about some other project that he could do to give back to the community: A message campaign. He got the idea for posters and a video.
He asked his mom to check on printing prices. When he came home, he and his dad, Raymond, and sister, Damaris, worked on the computer to make posters to send to a printer and record a video. It was an trial and error process to get the video made, but his family stayed up until 5 a.m. to get it finished.
He then began asking places around Batesville to display the informational posters. The posters were given to the library, the colleges, and at city hall. Green's Little League football coach, was Mayor Rick Elumbaugh. The posters were also given to the Independence County Sheriff's Office and the Batesville Police Department, as well as the Southside City Hall and Batesville School District, as well as local businesses such as Mike Payne's tobacco store on Lawrence Street.
Tips from the poster include: remain calm, keeping hands at the 10 a.m. and 2 p.m. positions on the steering wheel, passengers should keep hands flat on their lap, pay attention to law enforcement and their directives, refrain from making sharp, brisk movements when reaching for identification and registration, follow all directives from law enforcement
The video is available on YouTube, search for Proper Citizen Behavior.
"I have to say that I am very proud of him, how many people would of thought to not use their own name. He did that so the focus could be on the message, and not about him," said Shirley Green, Raymond's mother. To support Green and his continuing community outreach, he can be reached by mail at Raymond E. Green II, ADC # 130005, Cummins Unit, 1BK, P. O. Box 500, Grady, AR 71644.
https://www.guardonline.com/news/campaign-to-keep-citizens-law-enforcement-safe-during-traffic-stops/article_6aa1dc77-7175-54dd-9a18-a020ef321da1.html