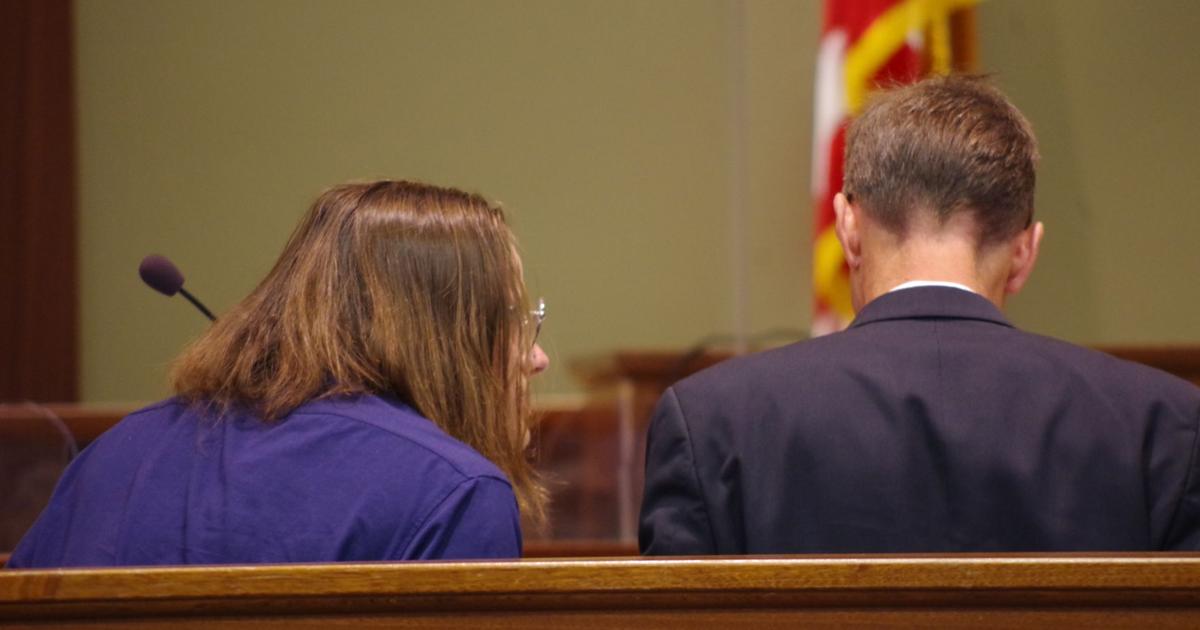 This story will be updated daily. 
The jury heard from five more witnesses for the prosecution on the fifth day of the trial of Tristan Borlase. They also heard about the autopsy reports for Tanya Borlase and Jeffery Borlase.
First Witness
Eric Edgerton, whose daughter was close with one of the Borlase children and was with the family on the night of April 10, 2019, spoke first about his role as a liaison for the house and possessions and in cleaning the house after investigators finished processing the crime scene.
Edgerton said he helped make sure the Borlase children had all the necessities they needed, from clothes to toothbrushes, while they couldn't access the house during the investigation.
He said he coordinated help with the children and cleaned the property with some of the homeschool teachers who had been working with the youngest Borlase child.
After realizing it would take too long and be too expensive to hire a professional crime scene cleaner from out of town, Edgerton said he, his wife and the teacher started cleaning the house on Sunday, April 21, once the Watauga County Sheriff's Office said they could do so.
While cleaning, Edgerton said the goal was to remove the blood stains around the house so that the Borlase children would not have to see them. They also removed all Tristan's belongings since he shared a room with other siblings, and the adults didn't want the kids to see his belongings.
Edgerton said he found a knife in one of the top drawers of Tristan's dresser hidden underneath some clothing. He said they immediately called the WCSO, who sent a deputy to come and retrieve it.
The prosecution asked Edgerton to look at the knife, and he noticed a reddish-colored stain on the blade.
Defense attorney Garland Baker asked Edgerton whom all had access to the house between the time of the murder and the knife's discovery. Edgerton stated nobody aside from himself, his wife, the teacher and the WCSO.
Second Witness
After Edgerton, the prosecution called Summer Maffett to the witness stand. Maffett works as a supervisor in the western regional lab in Hendersonville with the NC State Crime Lab and also processes evidence in the latent evidence lab. The prosecution went over her CV, qualifications, experience and training, which qualify her to testify as an expert on the subject of latent evidence.
Latent evidence, Maffett said, includes evidence such as fingerprints. In her work, Maffett described various types of tests the lab conducts to isolate and identify fingerprints on a variety of materials.
"Latent prints by their nature are fragile and easily wiped away, intentionally or unintentionally," Maffett said, so in her professional opinion she said she was not surprised about the lab's findings.
Out of all the evidence items sent to her lab, Maffett said there were no identifiable fingerprints on multiple objects such as the 8-inch Calphalon chef's knife, a steering wheel cover, a Calphalon 6-inch utility knife, or a five-spoke handle. Although there were partial "ridge details," or places where partial fingerprints were noted, there weren't enough to compare to any individual's fingerprints.
No fingerprints were found on the lab items of a keypad faceplate, the Calphalon 8-inch slicer knife or a Kershaw folding knife.
After reviewing the lab items' fingerprint analysis results, the prosecution asked Maffett to inspect State Exhibit No. 35, one of the knives. She noticed the reddish stain on the blade, and the prosecution asked her to elaborate on what that stain was.
Maffett said the stain was imparted on the blade during testing for fingerprints. A specific chemical used in the lab, an industry-wide standard, leaves a reddish stain on evidence items. The prosecution showed Maffett some other evidence items where she located similar splotches of the same colored stain on the other items of evidence.
Third Witness
The state then called Anna McDonald to the stand. McDonald works as a pathologist at Wake Forest Baptist Medical Center.
The prosecution asked McDonald about her education and work history and her experience testifying as an expert witness in trials.
McDonald said that forensic pathology is a subset of pathology, the type of medicine that looks at "anything that comes out of the human body." She said that pathologists examine and test samples of everything from urine to tumors, but forensic pathology takes this discipline and puts it in the medical-legal context, investigating non-natural or unexpected deaths.
Baker objected to showing the autopsy photos; however, Judge Horne permitted their use. Outside the jury's presence, he had gone through the photos with counsel present to ensure the photos were not excessive, unnecessary or only used to ignite the "passions" of the jury.
Using autopsy diagrams and photographs taken during the autopsy by a professional autopsy photographer, McDonald walked the jury through the injuries Tanya and Jeffrey Borlase had.
She noted that both Tanya and Jeffrey Borlase had small abrasions and incised wounds on the hands and forearms consistent with defensive wounds.
Ultimately, McDonald reported that Tanya and Jeffrey Borlase both had the same cause of death: multiple stab wounds of the torso. Both had sustained several wounds to the torso.
Fourth Witness
After the lunch break, the prosecution called Taylor Borlase to the stand. Taylor Borlase is the oldest child of Tanya and Jeffrey Borlase. The prosecution asked her to first testify about what her parents were like. Taylor Borlase said the house was full of love and learning and laughter but also full of chaos with all the children and animals they had. She said her parents worked with them to help better themselves and have compassion. She testified they were a tight-knit family.
She testified she recalled having disagreements with her parents as one does as a teenager, but they would talk about it. When she would get in trouble, she testified her parents would sit her or one of her siblings down and have long conversations. She said that talking was how they all learned from each other in her family. She testified she was never afraid of her parents and that when she or her siblings got in trouble, it never got physical.
The prosecution asked Taylor Borlase about what she remembered from April 10, 2019. She said she had received a text from her mother asking about Tristan Borlase's drug use. She later said that text was from her mom going through her brother's phone and seeing that he had asked her to get him a vape.
She testified that on April 10, 2019, she had received a text from her sister saying that something was wrong and that the boys were freaking out. She testified she sat everything down and rushed over to the house, where she had to stay at the top of the driveway. She was trying to comfort her brothers as she testified that she knew something horrible had happened. When law enforcement told the family what happened and that their parents were dead, Taylor Borlase testified that she just tried to comfort everyone and tell them she was there for them.
After describing that day, the prosecution asked her what her relationship was with Tristan Borlase. She testified that she was the closest to him before April 10 and that they had common interests like sports and music. She added that she knew there was a constant struggle between her brother and her parents with him getting in trouble.
The prosecution also asked her if she had visited Tristan Borlase in jail after the events of April 10, 2019. She testified she did for the first time within a week after April 10, 2019. She testified that the trip was short because his "attitude was disgusting," which made her leave. When the prosecution followed up, she said that Tristan Borlase didn't seem remorseful and that was trying to "blame them." She also testified that he "seemed arrogant," that he seemed to think he would get out soon and that he hadn't really done anything wrong.
She testified that her second visit was on May 11, Tristan Borlase's birthday. She said she went with her grandmother and uncle. She told the jury that she had been told by one of his friends that Tristan Borlase was visiting and that it would be some "fun birthday" get-together, which she said she thought was "disgusting" and "horrible."
"I thought that it was ridiculous that he wanted to have friends visit when I was taking care of these kids that no longer have parents," Taylor Borlase testified.
Defense attorney Garland Baker asked Taylor Borlase about her relationship with his client and if she had lived with her parents from 2015 to 2019. In 2015, Taylor Borlase had moved out to attend Appalachian State University. She said that while she did not live with her parents, she would regularly visit them since she lived in Boone.
Shortly after the state asked her a couple of follow-up questions, she stepped down.
Fifth Witness
The state then called Detective Matt Rollins to the stand. Rollins is a detective at the Watauga County Sheriff's Office in the criminal investigative unit. The prosecution had Rollins go over a drawing he had made of the Borlase residence that showed cameras on the side of the house. He described in detail what the cameras could see.
The prosecution then asked if he had gone inside the residence and gone upstairs, which Rollins testified he had. He testified he had seen some sort of interface that connected to a system and a monitor. He testified he could see a screen with a grid of different cameras on the monitor, which he testified showed a real-time feed.
Ultimately, Rollins testified he brought back the DVR system to the sheriff's office as evidence. He obtained warrants from the system company to acquire the credentials needed to access what was recorded on the cameras, as a username and password protected it. Once he got access, he was able to see what was recorded.
He testified the security camera system was motion activated, which meant the camera would start to record when the system picked up motion. Once he gained access to the system and recordings, Rollins testified he identified relevant recordings related to the deaths of Tanya and Jeffrey Borlase.
Rollins testified, in detail, what he saw. He said he watched Tristan Borlase and his parents come home and go inside the house and walk the dogs. He watched as Jeffrey Borlase went out to his truck and started to work in mulch. He testified he watched Tristan Borlase run out of the house covered in blood and saw Jeffrey Borlase get off the truck. Rollins said Tristan and Jeffrey Borlase came together and that Tristan Borlase had something in his hand, which Rollins said he identified as a knife. He testified Jeffrey Borlase took off running and that Tristan Borlase chased after him. Rollins testified it appeared that Jeffrey Borlase tripped and that Tristan Borlase lunges or jumps and brings a downward strike into his father.
Rollins then testified in another video he saw Tristan Borlase walk back in the house covered in blood. He testified another showed Tristan Borlase walking back from the hill. He then testified he saw him drag his mother and pick her up. He testified in the videos, Tristan Borlase could be seen using a hose to clean the porch outside the house. For about an hour, Rollins said there wasn't really anything to see, and then Tristan Borlase left and came back with his younger brother.
Before the recordings were published to the jury, the defense objected. The jury was sent out of the room and Judge Greg Horne heard from the defense. The judge ultimately ruled that the videos were allowed to be published to the jury. Once the jury got back, the prosecution began playing the recordings, which did not have audio and could not be seen from the vantage point of the Watauga Democrat reporter.
The recordings were played from approximately 3:37 p.m. to about 4:55 p.m. After the recordings were finished, the prosecution asked Rollins if — during the investigation process — they were able to identify the person in the video who attacked Jeffrey Borlase. Rollins said yes and identified Tristan Borlase. The prosecution then asked if Tristan Borlase could be identified in the courtroom, which Rollins did, pointing out that he was sitting next to Baker.
The jury was dismissed with cross examination from the defense to begin at 11 a.m. on Feb. 23. Judge Greg Horne stated that proceedings were on schedule for the defense to begin its case starting on Wednesday, Feb. 23.
Three witnesses were questioned on Monday, Feb. 21, during the fourth day of the Tristan Borlase murder trial. The prosecution played audio from three visitations Tristan Borlase had in the detention center in April of 2019.
Returning to the witness stand after testifying the previous Friday, Rebecca Russell, an investigator/detective with the Watauga County Sheriff's Office, testified regarding audiotapes of Tristan Borlase's visitations at the detention center in April of 2019.
The first visitation was with a (family friend). Much of the audio was unintelligible from where the Watauga Democrat reporter was sitting, in addition to Borlase's emotional state on the tapes.
The visitor told Tristan Borlase that "your mom loved you very much and she would've forgiven you for anything." She offered to help him however she could, such as relaying a message to his family.
Tristan Borlase was crying during the entirety of the recording. He told the visitor that he had been reading the Bible and praying. She and Tristan Borlase discussed what he should do in jail, such as listen to his lawyer and follow the rules.
Tristan Borlase told the visitor he couldn't say much about what had happened and had been instructed not to, but he did go on to explain an argument and a physical altercation he had with his parents and that he was defending himself.
In the audio recording, Tristan Borlase told the visitor that he wanted to speak with his older sister, Taylor Borlase.
The second audio recording presented to the jury was of visitation between Taylor and Tristan Borlase on April 20, 2019. Tristan Borlase began by telling Taylor that he could not detail what happened on April 10, 2019.
"I know you probably don't want to hear this. All you can do is pray," Taylor Borlase said. Tristan Borlase confirmed he had been reading the Bible and praying.
Tristan Borlase said, "I am going to fight this thing and I'm going to get out. I believe in my heart I was in the right."
Taylor Borlase asked Tristan Borlase why he had taken their youngest sibling to the house since this would be harmful to him. Tristan Borlase sobbed but did not reply with a clear answer. The recording abruptly ended before either said goodbye.
In a third visitation audio recording on April 20, 2019, Tristan Borlase talked about feeling cornered in the house the night of April 10, 2019, when he said he was in a physical altercation with his parents.
The audio was unclear due to audio quality and because Tristan Borlase could be heard crying in the audio, making it unclear what he was saying from where the Watauga Democrat reporter was sitting in the courtroom. While crying, he told the person on the other end of the phone "I am broken," and when the person asked him if it was okay that she spoke with the authorities, he said "yes."
The defense had no questions for Russell.
The state called Samantha Piper, an North Carolina State Crime Lab employee in the forensic biology section. Piper testified that during the five years she worked in that position, she examined the evidence for the presence of blood and DNA on items collected from crime scenes.
Piper said she conducted presumptive tests on all the items sent from the WCSO, which indicated whether there was blood. Afterward, she conducted DNA swabs to determine whose DNA was on the evidence.
WCSO sent the state crime lab three knives, a swabbing of a kitchen chair stain, a dish towel, a hammock, a pocket knife, a sleeping bag cover, a swab of a stain from the interior driver side door of a pickup truck, a Mossy Oak steering wheel cover, as well as blood samples from Tanya and Jeffrey Borlase and a mouth swab of DNA from Tristan Borlase.
Piper explained that most of the results had a mixture of DNA, usually a "major" DNA which is the most abundant, often from bodily fluids which have more DNA, and a "minor" DNA which is less abundant and harder to detect, often from a person touching an item.
On item three, a kitchen knife, a mixture of three DNA were found with the majority belonging to Jeffrey and Tristan Borlase, Piper said. A third DNA could not be identified due to being too small of a sample.
Piper said Jeffrey Borlase's DNA was found on the blade, on a second kitchen knife.
Item 5, a swabbing from a kitchen chair, tested positively for the presence of blood and had Tristan Borlase's blood on it, as well as a small amount of another DNA that was unable to be identified as a particular individual.
Piper said that tests on two different parts of a dishtowel concluded that Tanya Borlase's blood was present on the dishtowel.
On the hammock, Piper said the rope that held up the hammock was tested and found the presence of Tanya Borlase's blood. Five different swatches from different areas of the hammock body were cut for examination, but Piper said that many of the pieces did not render conclusive evidence because of a complex mixture of DNA or insufficient DNA present for testing.
Piper also tested multiple sections of the sleeping bag cover separately, and one piece had Tanya Borlase's DNA present while the other two pieces had Tanya Borlase's DNA as well as an unidentifiable second DNA.
The interior driver's side of the pickup truck tested positively for the presence of blood and DNA testing confirmed it was Tristan Borlase's DNA as well as an unidentifiable second DNA. The steering wheel cover in the car had many DNA sets on it, but Piper said she couldn't identify whose DNA there was, but that it could be any of the Borlase family members.
The prosecution asked why one of the knives tested for DNA did not have the blade of the knife tested. Piper said she did not test the blade for DNA because the blade of the knife did not appear to have blood on it, and she tested the place on the handle of the knife instead.
The defense continued this line of questioning because a stain could be seen on the blade of the knife. Piper said the stain was not present when she examined the item, and that it was likely imparted during latent evidence testing, where after she examined and tested the evidence, another section of the state crime lab conducted tests for fingerprints and other evidence, tests which she said sometimes can leave marks on evidence.
Considering the biological evidence on the items, once both the prosecution and defense rested Judge Greg Horne asked that the items be preserved.
The third and final witness on Feb. 21 was Detective Sgt. Lucas Smith who is in the criminal investigation division with the Watauga County Sheriff's Office. He was on call on April 10, 2019, and responded to the Borlase residence.
He said he arrived at the scene at approximately 11:35 p.m. The prosecution asked him to describe what he did and saw at the scene in detail. After his walk-through of the scene, he had a briefing from another officer about what family members had said, and then decided to move the family to the sheriff's office as he knew he needed to record interviews with the family.
At the office, he interviewed Robin Hahn, the grandmother, who he said told her about what she did that day and the communication she had had with Tanya Borlase. He said he also briefly interviewed Taylor Borlase. After that interview, he had gotten information that Tristan Borlase had been found in Tennessee. He testified that he started to draft warrants for extradition and then explored the possibility of having Hahn come with him to Tennessee to sit in on the interview with Tristan Borlase since he was 17 years of age at the time, which she did.
The prosecution then asked Smith if they had developed a primary suspect, to which he said "yes," and identified as Tristan Borlase. At the Johnson County Sheriff's Office, Smith testified he interviewed Borlase on April 11, 2019, which was video and audio recorded. The prosecution then entered the recording of the video into evidence and played it for the jury.
The recording was unintelligible for portions from where the Watauga Democrat reporter was sitting during its playing for the jury. During the interview, Tristan Borlase answered Smith's questions related to what happened. He was also crying at times during the interview.
During the interview with Smith, Tristan Borlase stated that he killed his parents. In the interview that was played, he said that he was never worried his dad would hit him. Tristan Borlase admitted to Smith in the recording that was played that he stabbed his mother first. He also said that he had come back to the house at one point but saw police cars and left.
After the recording was played — the interview was more than an hour-long — the state moved on to pictures Smith had taken after his interview with Tristan Borlase. The pictures showed the injuries Tristan Borlase had when Smith interviewed him.
The prosecution then asked Smith a few more questions related to his investigation and what happened in the following weeks related to this case. The prosecution ended its first round of questions at 4:20 p.m.
Defense Attorney Garland Baker started by asking if his client was distraught during the interview, which Smith said "yes." He also asked Smith specific questions related to the interview. Baker asked if his client had said that he loved his parents, and that he didn't want to say bad things about his mother, to which Smith confirmed that he had.
Baker asked if Tristan had said in the interview that he had no predetermined plan to do this, which Smith testified was correct. After asking him more questions related to the interview and what his client had said, Baker presented State Exhibit No. 82, which was a photo of his client's hands that Smith took.
He asked what injuries Smith observed, to which he testified he saw two cuts on the palm of his right hand and what he called a blood blister on the tip of his index finger. Baker then asked if he was familiar with defensive wounds, which Smith said he was. Baker asked if they were defensive wounds, and Smith said they could be explained in one of two ways and did not appear to be defensive wounds.
Baker said that those appeared to be lacerations on his hand, which was consistent with what Tristan Borlase told him in the interview stating that his dad had a knife. Smith testified that Tristan Borlase did not tell him he got those wounds from defending himself from his father, but testified that the wounds could have been made by the blade of a knife. Baker asked Smith if Tristan Borlase had said "he had a knife and I didn't have anything," which Smith testified he believed that's what he said in the interview. He also asked if Tristan Borlase ever denied killing his mother or father, to which Smith testified he did not.
About 20 minutes later, the prosecution asked Smith more questions. The prosecution first presented the same photo Baker had shown Smith of Tristan Borlase's hands. The prosecution asked him if he had training related to defensive wounds, which Smith testified he had. He explained that the wounds he saw on Tristan Borlase's hands could potentially have happened when a knife slipped after it had gotten wet with blood from a first stab, or the wounds could have happened if the knife had hit a hard surface — like bone — and had continued to slide.
He said the knives in question also had smooth handles, meaning a hand slipping could occur more quickly. He also testified that the wounds were in the same area on the defendant's hands, which would be consistent with multiple stab wounds.
The prosecution also asked if Tristan Borlase had said anything about his mother choking him, which he did not. In a previously played audio recording, Tristan Borlase could be heard telling a person on the phone that his mother had come up to him from behind and choked him. The prosecution also mentioned to Smith that Tristan Borlase had wanted to be emancipated at one point months before the April 10 incident.
Smith stepped down at about 4:50 p.m. Judge Horne told the jury that he believed they would have the case sent to them to start deliberations at some point this week.
Day three of the trial of Tristan Borlase saw six witnesses take the stand on Feb. 18 including teachers, law enforcement and those who knew the defendant. The prosecution also played recordings of calls from Tristan Borlase on April 13, 2019, from the detention center.
Before the jury was brought in for the third day of testimony in the trial of Tristan Borlase, Judge Greg Horne discussed some documents that needed to be turned over to the prosecution by an upcoming witness before they were heard. According to Judge Horne, a psychologist who is scheduled to speak at the trial had until the end of the day to submit the documents so that the prosecution has adequate time to review the materials before questioning. Defense attorney Garland Baker assured he would relay that information to the psychologist.
First Witness
The prosecution called Special Agent Maggie Holder to the witness stand. Holder, a special agent with the NC State Bureau of Investigation based in Watauga County, testified regarding her involvement and evidence collection throughout the investigation in April of 2019.
Holder said she was working with the SBI's crime scene unit at the time and was one of the agents processing the crime scene on April 10, 2019, at 1774 Orchard Road. She pointed to a diagram of the crime scene and described where she moved throughout the crime scene with Special Agent Lucas Smith and what evidence she collected.
Arriving around 7 to 8 a.m. on April 11, Holder said she spent the morning collecting evidence before being pulled away to another investigative activity for the case.
Holder testified that she processed the evidence collected from the white Ford F-150 truck in which Tanya Borlase was found. The truck was on a steep embankment and was difficult to navigate around, so Holder said the truck was taken to the Watauga County Sheriff's Office to be processed in the office's sally port. The deceased was examined and moved before transporting the truck to WCSO.
According to Holder, she observed reddish-colored stains on the driver's side of the pickup truck and in the truck bed and tailgate. She testified that the stains looked like blood were seen on the floorboard of the interior driver's side of the pickup truck.
Upon observation, she said it appeared Tanya Borlase had been stabbed.
The prosecution showed a collection of pictures of the truck, which had previously been submitted as evidence and confirmed that Holder was the agent who took the crime scene photos of the truck.
The defense objected to showing the photos to the jury. Judge Horne overruled and permitted the photos to be shown to the jurors. At the same time, Holder explained where she saw the "reddish-colored stains" and other observations made while assessing the white truck.
In addition to photographing the truck, Holder said she took multiple swabs of the stains throughout and outside of the truck to collect possible DNA. She said that per standard procedure, the evidence was given to the lead investigating agency, in this case, the WCSO.
After processing evidence from the white truck, Holder said she received a call that Tristan Borlase had been located in a vehicle in Tennessee and she was asked to process evidence from that vehicle at the Johnson County Sheriff's Office in Mountain City, Tenn.
Holder testified she first ensured she had the legal authority necessary to search the vehicle upon arrival and then began photographing and processing evidence from the black Volkswagen GTI hatchback Tristan Borlase had been found in.
In the car, Holder said she found a Watauga County Schools report card for Tristan Borlase, some vape pens or e-cigarettes, a plastic bin with snack food, a receipt for McDonald's purchased at 6:40 a.m. on April 11, 2019, as well as a wallet, razor, phones and Mio drink liquid added into water inside of the glove box.
The wallet contained a North Carolina License Driver's License and a concealed carry permit — both issued to Jeffrey Borlase.
Inside the driver's side door compartment of the Volkswagen GTI, Holder said she found a black pocket knife that had what appeared to be blood on the blade. The jury was shown the pocket knife and wallet with the NC driver's license up close, as well as the evidence bags in which both were kept.
Defense attorney Garland Baker asked Holder if she ever spoke with Tristan Borlase, and Holder said she had not, although she and lead detective Lucas Smith conducted an oral DNA swabbing on Tristan while he was in jail.
Second Witness
The prosecution next called Tate Cook to the witness stand.
Cook said he was a senior in the spring of 2019 and participated on the track team with Tristan Borlase. He testified that he and Tristan were friends who would hang out during track practice and meets and outside of school as well "almost every day."
On April 10, 2019, Cook said he didn't see Tristan during the day or at the WHS track meet after school.
He testified that he heard from another track team member that Tristan Borlase was picked up by his parents during the school day and was in trouble with them, and defense attorney Garland Baker objected on the grounds of hearsay. Judge Horne asked jurors not to consider that statement as truth but rather for context.
Cook said he received a photo on Snapchat — a social media messaging app which allows users to send direct messages, photos with captions and post to public stories accessible by all friends on the app — from Tristan the afternoon of April 10. In the photo, Cook said he could see gashes on Tristan's arm and a caption, which Tristan had written saying he had been attacked by a dog.
Over Snapchat, Cook said Tristan messaged him to see if he could wait at WHS after the track meet so they could hang out. Cook said he, two other track team members and Tristan hung out in a parked car in the WHS parking lot for about an hour around 9 p.m. to 10 p.m. Cook said Tristan was about an hour late.
Cook said they smoked marijuana and talked and listened to music. He testified that Tristan said he had gotten into an argument and was running away, but did not say anything else on the subject.
Despite the argument with his parents, Cook said that Tristan Borlase was "acting normally." When asked what Tristan's normal demeanor was, Cook said that Tristan Borlase was a "chill" and laid-back person.
Third, Fourth and Fifth Witnesses
Two teachers and the attendance person at Watauga High School took the stand on Feb. 18. The first witness was Sheri King, an English teacher at the high school who had Tristan Borlase in her class between January and April 2019.
She testified that she had called Tristan Borlase's mother that morning and voiced concerns over how he was doing in her class. She testified that Tanya Borlase also seemed concerned. During class on April 10, 2019, she received a call that Tristan Borlase would be checking out early, and when King told him that, she testified that he seemed surprised.
The defense asked if it was the first class she had Tristan Borlase in, which she testified it was. Defense Attorney Garland Baker also asked how his demeanor was, which she testified was pleasant. She had also testified that he would sometimes sleep during her class and that she did talk to him about it, but could not recall if he offered any explanation.
The prosecution then called Kristina Pukansky to the stand, who works in the attendance office at WHS. The state had her go over a progress report identified as Tristan Borlase's. Reviewing the report card showed that Tristan Borlase was struggling in some classes, as some of the grades Pukansky testified to were in the 60s to low 70s.
The state also asked if she recalled April 10, 2019, to which Pukansky responded that she did. She testified that Tristan Borlase was checked out by his father sometime between 2 and 2:45 p.m. that day, and that there was an odd interaction when the father tried to lean in and put an arm around Tristan Borlase, who then ducked away and to the side. She testified she could not see Tristan Borlase from the front. She did testify there did not appear to be anything off about him.
The defense asked Pukansky if she had known Tristan Borlase. She testified she really had not until that semester and only interacted with him for late check-in.
On recross examination, the prosecution asked if Tristan Borlase drove himself, which Pukansky said he did and that he was late a couple of times a week.
The prosecution then called Randy Combs to the stand, a social studies teacher at WHS. He also taught Tristan Borlase beginning in January 2019. He testified that early on he thought Tristan Borlase was a normal high school student that seemed to be intelligent and well liked. He testified that he had received an email from Tanya Borlase at 6:29 p.m. on April 10, 2019. Before the prosecution entered it into evidence, the defense objected on grounds it could not have been sent by Tanya Borlase. while the jury was out of the room the judge ultimately ruled it could be entered into evidence.
In the email, Combs testified that Tanya Borlase had reached out to him through Tristan Borlase's email asking him how he was doing in the class. She had signed it with her personal email and cellphone for Combs to reply to. In his reply, Combs testified his concerns related to Tristan Borlase in his class were that he had been tardy consistently, didn't participate or listen, was withdrawn and stopped working. He also testified he would put earbuds in during class.
Combs testified he tried to address those concerns with Tristan Borlase, stating that the two had held a conversation outside the classroom in the hall. He testified it was a pleasant conversation and that Tristan Borlase said he would try and do better, but Combs stated he did not see any improvement after.
The prosecution also entered into evidence a unit calendar from Combs' class for what they were working on between April 5 and April 11. He testified they were learning about law, civil court cases, criminal court cases and juveniles in the court system. On April 10, Combs testified they were going over juveniles in the court system and how a juvenile could be tried as an adult, with the exception of the death penalty.
The defense also asked Combs how he was in class and if Tristan Borlase was tardy. Combs testified that he found Tristan Borlase very intelligent, but his performance fell short. Combs left the witness stand at approximately 2:15 p.m.
Sixth Witness and Recordings
The sixth and final witness called to the stand on Feb. 18 was Rebecca Russell, an investigator/detective with the Watauga County Sheriff's Office. The prosecution had her talk about procuring and obtaining recordings from the phone calls at the jail made by detainees, as well as recordings of jail visits.
She testified that each detainee is given a unique pin number associated with their account. She also testified that she was able to retrieve recordings of calls related to this case and that she had downloaded and made copies of several recordings related to Tristan Borlase between April 11 through April 20 or 25. She estimated more than 30 recordings were downloaded and submitted.
The state then introduced state exhibit No. 72 into evidence, which was a thumb drive containing audio recordings. Russell testified she had reviewed the drive that morning and had listened to all the calls, which were originally downloaded in April 2019. She testified they were in the same condition as she originally downloaded them.
The prosecution then played a recording of a call from the detention center Tristan Borlase made on April 13, 2019, at 2:27 p.m.
On the call, Tristan Borlase could be heard speaking to a woman who was not identified. The audio was not always clear. However, Tristan Borlase could be heard asking if the person on the phone could be a character witness, to which she replied that she needed to hear what happened.
Tristan Borlase then could be heard on the audio stating that his mom had sat him down at the table and told him to work on homework and to not get up. He said on the recorded audio that they were having some sort of conversation about religion. In the audio, Tristan Borlase said his mother came up behind him and started attacking him. A portion of the audio from that point was unintelligible from where the Watauga Democrat reporter was sitting for the court case.
A time later in the audio recording, the woman in the phone call could be heard asking Tristan Borlase how his mother got into the truck. He replied that he knew he had to leave and that he couldn't keep it exactly how it was. In the audio, he stated that there were cameras outside of the house and that they didn't capture anything that happened inside except "for me and my dad fighting outside."
The audio again became unintelligible. During the playing of the audio, Tristan Borlase could be seen with his head in his hands.
Later on in the audio recording, Tristan Borlase could be heard saying "back of the truck and just drove it down," and that he tried to clean up really quick inside and "just covered up my dad." Tristan Borlase was audibly upset in the audio that was played. Another recording from the same day was also played, with the same unidentified woman on the call with Tristan Borlase. The audio was unintelligible from the vantage point of the Watauga Democrat reporter.
The prosecution then stated they had two more recordings that they planned to play, but the judge decided to have them wait until Monday morning so the jury could be released early, since it was a Friday.
Judge Greg Horne said the trial by his estimation, is still ahead of schedule. The judge dismissed the jury at approximately 3:30 p.m. with the trial set to resume Monday morning.
Trial Day Two 
Day two of the Tristan Borlase murder trial began with a possible COVID-19 exposure within the jury and then moved to the first witness, which was a special agent with the North Carolina State Bureau of Investigation. The state also called two other witnesses to the stand, a Johnson County Sheriff's Office employee and the woman who was with Tristan Borlase when he was taken into custody in Tennessee.
The morning began with the announcement of a possible COVID-19 exposure on the jury due to a juror who called out with COVID-like symptoms and was waiting on test results. The rest of the jury pool was individually summoned to the courtroom to discuss the situation and their comfort in continuing the case.
All jurors agreed to move forward with the trial, which meant the trial could proceed without a five-day recess. The judge dismissed the juror that had called out ill and an alternate juror selected pre-trial was seated to start the morning session and will remain for the rest of the trial.
"I know it feels like getting called into the principal's office," Judge Greg Horne said while calling each juror one at a time to the courtroom. However, beyond vaccination status, he said it is important each juror feel comfortable enough to continue the trial without concerns of COVID-19 distracting from the testimonies and evidence and to make that decision on their own.
First Witness
The prosecution first called to the stand North Carolina State Bureau of Investigation Special Agent Rob Powers, who responded to the crime scene.
The prosecution had Powers go over photos — which the state introduced as evidence — he took at the crime scene. In detail, Powers described his process of documenting evidence and how he goes about processing a crime scene. Powers said he took 737 photos in total.
The prosecution also showed diagrams of the crime scene that Powers had created in a PowerPoint presentation, diagrams the prosecution entered into evidence. Wildlife cameras were labeled in the diagram. Powers also mentioned documenting home security footage that he said showed the outside, as he could see his vehicle from a monitor.
In cross-examination, the defense asked more about his process and if he consulted with other officers on the scene, which Powers responded that he did when two other agents got there. The defense also asked about a safe, which had one picture of it closed and one of it open. Powers said initially the safe was closed when he got there, but later on — since the handle was at the base of the safe — it was opened by a locksmith.
The defense also asked Powers about lab testing and if there would be presumptive testing done at the scene on suspected blood.
While Powers was on the witness stand, the prosecution also introduced state exhibits No. 35 and No. 36, which were two knives found in the residence's sink. The prosecution had Powers hold the knives — which were in evidence boxes — and walk among the jury to show the evidence.
The defense did not have a recross of Powers,who stepped down at about 3 p.m.
Second Witness
The prosecution called Detective Shawn Brown of the Johnson County (Tenn.) Sheriff's Office. According to Brown, JCSO patrols made contact with a black Volkswagen that they had received a BOLO — "be on the lookout" — for out of North Carolina. Brown said patrol made contact at approximately 8:53 a.m. on April 11, about 6-7 miles from the Watauga County line and about 5-6 miles from Mountain City.
When he arrived on the scene, Brown said he observed Tristan Borlase outside on the passenger side in the rear with one of the officers. He said his demeanor was overall "kind of normal, so to speak." He testified Tristan Borlase did not appear upset or agitated, but concerned about police being there, but not abnormally so.
The prosecution asked if Brown had any interaction with Tristan Borlase, which he responded was minimal. Brown said he asked about Borlase's arm, which he said was in a homemade sling. Brown also responded that there was a female passenger with Tristan Borlase after the prosecution asked if anyone else was there.
The prosecution asked Brown to describe what happened after the stop. Brown said they had contacted the Watauga County Sheriff's Office and took Tristan Borlase back to their office, where he was subsequently interviewed. The prosecution asked if he had any recordings of the interview, which took place in Brown's office. Brown confirmed that the interview was recorded on a closed-circuit camera and that he had retrieved a copy of that recording.
Upon cross-examination, the defense asked if Brown had ever had any interaction with Tristan Borlase, if he had ever seen him or heard his name before. Brown said to his knowledge, he had not.
The prosecution did not ask further questions, and Brown stepped down from the stand.
Third Witness
The prosecution then called Evelyn Jackson to the stand. Jackson was in the car with Tristan Borlase when it was pulled over on April 11, 2019.
The prosecution asked Jackson about her relationship with Tristan Borlase, to which she said they were friends and had an English class together. During March and April of 2019, Jackson said they were only friends.
Jackson testified that Tristan Borlase would confide in her at times in regard to his relationship with family and what he was going through with arguments he had with his parents. On April 10, Jackson said she did not go to school since she had a migraine. The state then started to ask Jackson to describe a social media post she had seen from Tristan Borlase, to which the defense objected.
The defense argued that the state has to show that the social media post was made by Tristan Borlase. While the jury was out of the room, the prosecution asked Jackson to describe how she interacted with Tristan Borlase on the social media platform Snapchat. She said she would have conversations with him over Snapchat and then also continue those in class or vice versa. Ultimately, the judge ruled the social media post could be used in the trial. The prosecution continued to ask her questions about Snapchat to outline their argument Tristan Borlase made the post.
However, before the jury was called back in, Defense Attorney Garland Baker and Tristan Borlase talked to each other. After they stopped talking, Baker asked the judge if they could speak together with the prosecution outside of the courtroom, which the judge granted. The three parties met outside the courtroom for about four minutes.
When the three parties came back in, Baker made it clear that he had intended to cross-examine Jackson and bring up items from her interviews that he believed would damage her credibility as a witness and help his client with his case. However, Baker said Tristan Borlase did not want him to go down that avenue of inquiry despite it helping his case. The judge asked him if he felt he had been given enough time to confer with Baker before making that decision.
The judge also asked Tristan Borlase if he was directing his attorney not to explore the inquiry Baker thought could damage the witness credibility, to which Tristan Borlase said that was the case. Tristan Borlase could be heard sniffing and looked upset.
Tristan Borlase also started to say something about the social media post, but the judge stopped him as he had the right to remain silent and had only asked him questions about what his attorney had said regarding the examination of the witness.
The jury was then brought back into the courtroom at 4:22 p.m. The prosecution then had Jackson talk about when she saw the social media post from Tristan Borlase. The state entered into evidence a photo of the social media post. Jackson said the photo showed a bite mark on his arm, which she identified was from Tristan Borlase's Snapchat account.
Later that day, Jackson said she got a message from that same account from Tristan Borlase asking if he could come over to her place. She said Tristan Borlase then came over to her house that night. She testified when he showed up he was injured and seemed "anxious, mainly." She said he told her the injuries were from his father's dogs and that he had an argument with his parents and was running away.
She described the injuries to Tristan Borlase as three scratches on his forehead, an injury on his arm, a cut on his finger and a bruised fingernail. She said the injury seen on Snapchat earlier that day was consistent with what she saw on him later that night.
The prosecution then asked what happened, to which Jackson said Borlase slept next to her in her bed that night as it was convenient. She testified they went to Walmart and McDonalds in the morning and that they were going to go to the high school before she said Tristan Borlase changed his mind. She had told Tristan Borlase that he could stay at a house of one of her family members. 
The prosecution asked Jackson that, at some point when they crossed into Tennessee, if they came in contact with law enforcement, which she said yes, as they pulled them over. The prosecution then asked if she remembered if Tristan Borlase said anything about the blue lights behind them. She testified that he said she was speeding and to slow down, which she did. She testified that he had also told her that his family had registered that car as stolen so they could find him.
She testified that she was confused when she saw multiple police cars after she pulled over. She also said she was questioned at the Johnson County Sheriff's Department and had told them what had happened in the last 12 hours. She also said she had not had any contact with Tristan Borlase since that day.
The defense did not cross-examine Jackson, who stepped down at around 4:44 p.m. The jury was then dismissed at 4:45 p.m.
Trial Day One 
The trial of Tristan Noah Borlase — accused of killing his parents — started Feb. 16. The prosecution called five witnesses to the stand on the first day of the trial including three family members and two law enforcement officers who detailed what they did and saw on April 10, 2019.
The trial of Tristan Noah Borlase, 20, started at approximately 10:36 a.m. on Feb. 16 with opening statements from both the prosecution and defense.
Borlase is charged with first-degree murder in the deaths of his parents — Jeffery David Borlase, 43, and Tanya Maye Borlase, 44.
On April 10, 2019, the Watauga County Sheriff's Office responded to 1174 Orchard Road for a 911 call related to the disappearance of three family members. Both parents were subsequently found dead outside of the home, the Watauga Democrat previously reported. The following day, Tristan Borlase — then 17 years old — was arrested and charged with two counts of first-degree murder.
The prosecution began its opening statement by saying the jury was tasked with simply stating the truth in their verdict. Defense attorney Garland Baker — representing Borlase — stated that his client is guilty of murdering his parents and that the jury would find him guilty of that, but should not find him guilty of first-degree murder.
Representing the prosecution, Assistant District Attorney Jasmine McKinney began her opening statement at 10:36 a.m.
She told the jury that the Borlase family was big — with eight children, four of whom were adopted — and that they were not always perfect but were a loving family. She said that in spring 2019, they were trying to help the defendant as he was not doing well in school and had other behavioral issues.
She told the jury that on April 10, 2019, his parents received a phone call from a teacher at Watauga High School saying that Borlase was not doing well in school. So, she told the jury, the parents pulled him out of class to discuss his grades, during which they asked Tanya Borlase's mother, Robin Hahn, to watch their youngest son while they addressed the issues with Tristan Borlase.
McKinney told the jury that family members would testify to what they saw that night when they got to the house. She told the jury that they would hear from family members, lab analysts, doctors, law enforcement officers and that they would see photographs and videos during the trial.
In the defense's opening statement, Baker told the jury that his client was — and that they would find him — guilty, but not of first-degree murder. He told the jury that there are several levels of "anything that happens in our lives."
He told the jury that the state was going to prove what happened but not why it happened. He told the jury that when the state rests its case in several days, they will know what happened but not know why it happened.
First Witness
The prosecution first called to the stand Alexis Hinchliffe, one of the daughters of Tanya and Jeff Borlase, at 10:49 a.m. Hinchliffe spoke about what it was like growing up in the Borlase family, that her parents were "happily married" and "everything they did was for each other out of reverence for Christ and for us as their kids."
She said that she had a happy childhood and, when asked, described what kind of discipline her parents used in their household.
"It depended on the circumstance," Hinchliffe said, but that her mom tried many methods such as time-out and using a point system in which bad behaviors corresponded with chores. She said the children would occasionally get spanked, but — upon questioning by McKinney — said her parents never physically hurt her or the other children, nor was she ever physically afraid of them.
Hinchliffe said all the children could participate in various extracurriculars, such as sports or music, and the parents helped support each in buying cars, paying for the insurance, maintenance and gas.
Hinchliffe said her family moved from Mooresville to Deep Gap in 2017, and during this time the family was living apart. Tanya Borlase and some of the children moved to Deep Gap while Jeffrey Borlase and other children stayed in Mooresville for Tristan Borlase to finish that school year at the school he had been attending.
Hinchliffe said she visited the family home in Deep Gap at least once a week, if not more frequently.
During Hinchliffe's examination, the state introduced two images as evidence. One was of the entire family from 2017 or 2018 and one was of the two parents laying on a hammock.
After questioning her about the family, the state then moved to the day of April 10, 2019, where they asked Hinchliffe her recollection of that day. She told the jury that she got a call from her twin sister who was in Winston-Salem at the time. She said her sister told her the youngest sibling called her and was distressed. Hinchliffe said her sister was in tears and couldn't understand what she was saying. Hinchliffe and her boyfriend picked up her brother from work as no one had picked him up yet, and then went to the house.
Hinchliffe testified that when they got there it was dark and they went inside, and she told the jury that the biggest thing that stood out was the presence of blood all over the place and that the rug that was typically in the entrance was not there.
As they thought their parents may be down there, Hinchliffe and her boyfriend then walked down toward the barn area.
Once there, they saw a body wrapped in a hammock, which is when her boyfriend then grabbed her and took her back to the residence and said they needed to call 911.
After an hour of questions by the state, the defense then questioned Hinchliffe, asking her about where she lived and who lived at the home during the years leading up to the parents' death.
The state then asked in follow-up if she ever saw her parents become physical with Tristan Borlase to which she answered no.
Second Witness
Hahn stated that she watched the Borlase's youngest son during the day on April 10, 2019 after Tanya and Jeffrey Borlase took Tristan out of school to discuss his academic performance.
She told the jury that around 4:30 p.m. Tanya texted her that the conversation with Tristan had gone well and that he did not seem upset that his parents had taken away his phone and car keys until his grades and behavior improved.
Around 8:30 p.m., Hahn testified Tristan Borlase came to her residence, only a mile or so from the Borlase family's house, to pick up the youngest Borlase son.
She said she was surprised to see Tristan and asked where his parents were, and she said he made an excuse like they were "at the store," but couldn't remember exactly what he said.
Hahn said that she became concerned later when she did not hear from Tanya or Jeff Borlase, particularly after another of the Borlase children called stating his parents hadn't picked him up from work like they usually would, around 20 minutes after Tristan and the younger son left.
After calling Alexis and Robert Hinchliffe, Hahn said the two went to pick up the other sibling from work and agreed to meet Hahn at the family house.
Hahn said she used to work as a laboratory technician and noticed blood on the porch when she first approached the house. Since it was a farm with animals, she said she wasn't very concerned at first. But upon entering the house, Hahn said there was blood everywhere.
She said she went to the sink to rinse off a flashlight for Alexis and Robert Hinchliffe to use to check on the animals in the barn outside, but in the sink she found two butcher knives with blood on them.
Hahn said Alexis and Robert Hinchliffe returned to the house 30 seconds to one minute after leaving, stating they had seen a body wrapped in a hammock by a barn they called the "dog cabin."
She told the jury she went to look outside, but the youngest child begged her to stay inside and call 911. She said the 911 operator told her to take everybody and sit in their car outside until the police arrived. An audio recording of the 911 call by Hahn was then played for the jury.
Hahn said the police arrived about 10 minutes later. After a few hours waiting outside and talking to law enforcement, Hahn said she, the youngest Borlase, Alexis and Robert Hinchliffe drove to the Watauga County Sheriff's Office where their statements were taken, and, ultimately, where they were informed that Tanya and Jeffrey Borlase were deceased.
The next day, Hahn said she went with a deputy from the WCSO to Johnson City, Tenn., once Tristan Borlase was found and arrested. Hahn told the jury she was present during Tristan Borlase's statement to law enforcement officials in Johnson City per his request since he was still a minor.
Defense attorney Garland Baker asked Hahn if Tristan Borlase said during his statement in Johnson City that he was defending himself, but Hahn said she could not remember what he specifically said.
Third Witness
The state then called its third witness — the youngest Borlase, a minor — to the stand at 2:22 p.m.
The state finished its first round of questions at 2:37 p.m. and the defense asked questions for about two minutes. The defense asked how Tristan Borlase was acting and if he normally did not appear upbeat and happy, which the youngest said was not usually the case.
The youngest left the stand at 2:39 p.m.
Fourth and Fifth Witness
The state then called Watauga County Sheriff's Office Sgt. Casey Miller to the stand at 2:40 p.m. Miller was one of three deputies who first responded to the scene. Once on scene, he said they talked to Hahn.
At that point, the state introduced an aerial photograph of the scene. The state had Miller utilize the map to show what he and the other officers did at the scene. Miller said on scene, they did a check of the house and noticed a knocked over chair and blood on spots on the wall. After they cleared the house, Miller said they talked to Hahn again and then went down to the second structure on the property.
Once they cleared that structure, Miller testified he saw a hammock and could see two feet sticking out of it. Miller said he then notified officers he found a deceased white male and said he noticed the shirt was covered in blood. At that point, Miller said he and the other officers waited for additional officers to arrive.
Once the officers arrived, Miller said he conducted another search of the property in which they spotted what Miller said he thought was the reflection of taillights in the woods. Miller testified that he and other officers walked to the area and could tell it was a truck that had been driven there. Miller said he noticed mulch in the back and saw a knee and a pair of feet upon closer inspection. He said he saw there was blood on the tailgate. He then notified his superior officers that they had found a deceased female and gave the location.
The defense asked Miller if the truck was running when Miller found it — which it was not — and if it was dark when officers first arrived on the scene, which he testified it was.
Miller stepped down from the stand at 3:06 p.m.
Following a brief recess, the state then called Deputy Aaron Watson to the stand at 3:29 p.m. Watson gave similar testimony as Miller as to what happened when they arrived at the scene. The state also introduced body camera footage from Watson as evidence and showed the jury approximately 13-and-a-half minutes of the camera footage. The footage was from April 10, while Watson and other officers were on the scene.
The defense asked Watson if he had taken any other recordings or videos at the scene, which Watson said he had not. The defense also asked if Watson had seen Tristan Borlase at all that day, which Watson said he had not. Watson then stepped down from the stand at 4:03 p.m.
The jury was released at 4:06 p.m. with Judge Gregory Horne stating they were ahead of schedule and would reconvene in the morning.

Deep Gap teen charged with murder of both parents

Grand jury indicts Borlase on murder charges

More information surfaces in double homicide case

Autopsy: Stab wounds caused deaths of Borlase couple

Jury selection underway for Borlase murder trial
https://www.wataugademocrat.com/news/local/borlase-murder-trial-starts-with-family-law-enforcement-testifying/article_69679026-0791-5153-8224-1ce33dcf4a1e.html