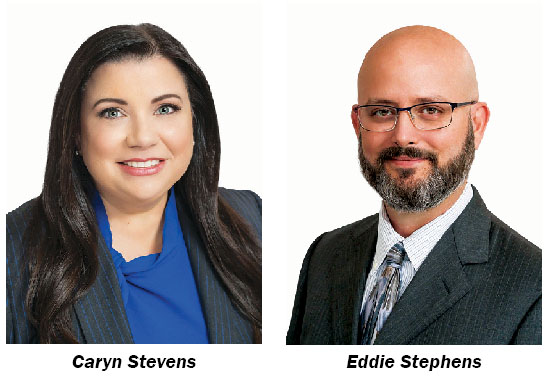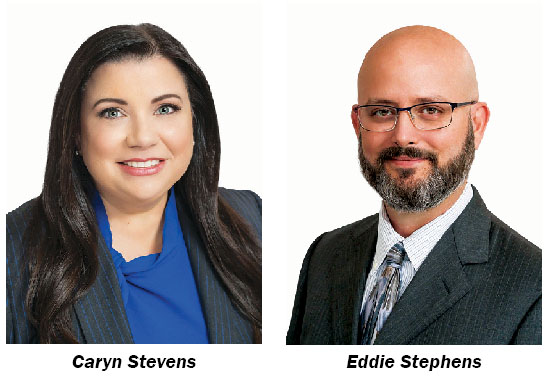 Attorneys Eddie Stephens and Caryn A. Stevens recently announced the formation of their new law firm, Stephens & Stevens PLLC. With offices in West Palm Beach, the firm serves clients throughout the Palm Beaches. This duo of award-winning family law attorneys focus their practice in all areas of marital and family law. The boutique firm brings together the talents of two Florida family law attorneys, associate attorneys, and a team of paralegals and support staff, with a strategic approach and compassionate perspective to work toward the best possible resolution for the clients they represent in complex, life-changing situations.
With 25 years of litigation experience, Eddie Stephens is a board-certified family law attorney. He has earned the AV Preeminent Peer Review Rating by Martindale Hubbell, a professional rating indicating the highest ethical standards and professional ability.
Stephens is an author, lecturer and community leader who specializes in high-conflict, high-asset divorce cases, helping clients with domestic legal issues such as property division, business valuation, child support and spousal support, child custody and visitation, post-judgment modifications, child relocation, same-sex marriages, and both prenuptial and postnuptial agreements.
"After 25 years in practice, I am grateful to have created a team of family law professionals who are empathetic and effective in getting optimal results for our clients," Stephens said.
Caryn Stevens, a Wellington resident, brings a unique perspective to the practice of marital and family law. Prior to practicing law, Stevens spent more than 12 years working in the mental health and counseling fields. As a mental health counselor, school guidance counselor and a counselor for the Department of Children & Families, she brings a unique and compassionate perspective to the clients she represents.
Stevens has assisted thousands of children, families and couples through difficult life circumstances and is a zealous advocate for her clients both inside and outside the courtroom. She focuses her practice on dissolution of marriage actions, paternity actions, domestic violence, child custody and child support actions, post-judgment modifications, prenuptial agreements, postnuptial agreements, child relocations and family law appeals.  
"My background in mental health and counseling allows me to use therapeutic skills to help clients through difficult times," Stevens said. "As a family law attorney, I use my mental health training every day to make a difference and create positive change for each client."
In addition to founding partners, attorney Gina Szapucki joins the firm. Szapucki concentrates her practice exclusively in the areas of marital and family law. She represents a diverse clientele with a passionate drive to assist, guide and advocate for families efficiently and effectively for their individual rights under Florida law. Also joining the team are two paralegals and administrative staff. 
Stephens & Stevens PLLC is located at 400 Columbia Drive, Suite 111, in West Palm Beach. For more information, call (561) 430-4350 or e-mail [email protected].