BOONE — On the one-year anniversary of the standoff that left two Watauga County Sheriff's Office deputies and three civilians dead, family members and law enforcement have a message: healing.
On April 28, 2021, Watauga County was rocked when WCSO Sgt. Chris Ward and Deputy Logan Fox were killed in a standoff that included the deaths of Michelle Ligon and George Ligon. Isaac Barnes, the son of Michelle Ligon and stepson to George Ligon, was also killed.
The Watauga Democrat previously reported that the officers responded to a call for a welfare check at 553 Hardaman Circle just outside of Boone at 9:44 a.m. The check was initiated by the homeowner's employer, who reported the homeowner did not report to work or respond to telephone calls, according to the WCSO.
Ward and Fox entered the residence after discovering all vehicles belonging to the residents were on the property, according to the WCSO.
After entering, the deputies discovered the bodies of Michelle Annette Ligon, 61, and George Wyatt Ligon, 58, and began searching the home, according to WCSO Major Kelly Redmon. The deputies were allegedly fired upon by a suspect identified by the WCSO as Isaac Alton Barnes, 32. Fox and Ward called for backup from responding agencies; backup responded immediately, according to Redmon. Fox died at the scene and Ward died after being airlifted to Johnson City Medical Center for treatment, according to the WCSO.
"Our two heroes are exactly that – heroes. I am positive that they sacrificed for the entire neighborhood and community," Sheriff Len Hagaman said. "To put words, thoughts, reflections are very difficult, as those thoughts are mentally, physically, emotionally, and even spiritually, are very draining. These were our family and like any loss of family, it hurts. We can't, nor should we ever push our remembering away, but again, it hurts to do so. I think we all have genuine feelings and thoughts that are unique and extremely personal and unique to each of us."
Deputy Logan Fox and Sgt. Chris Ward
Hagaman said it was painful to reflect on that day, but that they continue to have the family "of our heroes in these thoughts and prayers, too."
In his obituary, Ward was described as enjoying "hunting, fishing and being outdoors. Chris was a graduate of Watauga High School and Basic Law Enforcement Training. He began his career at the Beech Mountain Police Department in in 2013, and joined the Watauga County Sheriff's Department in 2018."
Fox was described in his obituary as someone who's "kindness and caring knew no limits. When he walked into a room his bright eyes and big smile greeted anyone in his path. His laughter was infectious, and he was described as a 'big brother' by so many. It was his natural instinct to make people laugh and feel at ease in his presence. Logan had a knack for surrounding himself with wonderful people and incredibly strong friendships with whom he remained in contact with from childhood throughout his adulthood. The strongest of which is his high school sweetheart and absolute Love of His Life for seven years, Anneliese Moody, with whom he planned to spend the rest of his life with and will forever remain a part of the Fox family."
Hagaman said daily reflection on April 28 and other tragic days boils down to the huge responsibility of intentionally sending men and women into harm's way. He said that responsibility was performed with horrible outcomes on April 28, 2021, and July 26, 2012, when Deputy William Mast was killed in the line of duty.
"Yet every day and night our folks continue to respond without hesitation or reservation," Hagaman said. "They will continue to put themselves into harm's way. Each and every day, I reflect on these days filled with darkness and pray that we never have to carve heroes names into the black granite ever again."
April 28 is still painful to look back upon for Redmon.
"There are painful memories that often flood in my mind, as well as memories of some very heroic actions by officers, firefighters and medics," Redmon said.
A year later, Redmon said officers at WCSO have rallied around each other.
"We often have conversations about something Chris or Logan had said or done and enjoy remembering them as not just a coworker but also as a family member and friend," Redmon said. "We have cried together, laughed together, shared feelings about the incident, drawn strength from the fact that the job that we do should honor the memory of Chris Ward and Logan Fox. Situations like this, I don't think that you ever totally go back to normal 100 percent. Ten years ago Deputy William Mast was killed in the line of duty, and there isn't a day that passes that we don't think about him as well."
Redmon also reflected on the community rallying around the department and support they received in the weeks, months and now year since the shooting.
"We have been so significantly blessed by the support of our community. I hadn't stopped to realize in a while what a wonderful community that we all are fortunate to be part of," Redmon said. "Continually officers tell me of nice comments and gestures that they have received while on and off duty. And we all see the blue lights on everyone's home and business while on patrol at night. I don't think anyone realizes what a wonderful message of support that sends to us."
In 2021, Redmon said there were 614 line of duty officer deaths reported across the United States.
"During our lowest points, our community, our churches, Watauga County Schools, civic groups, Caldwell Community College, ASU, businesses too numerous to name here, and our wonderful citizens came by to encourage and support us," Redmon said. "They made us so many wonderful things to eat, prayed for us, and loved on us whenever they had a chance. Honestly getting a visit from someone in your community really makes a difference when you are feeling like the weight of the world is on you. Thank you all for the support and your continued confidence in us which drives us to do the dangerous job that we do."
To honor April 28, Redmon said the office is holding a private memorial at the WCSO. Redmon said that many officers will also travel to Washington, D.C. in May for National Police Week, where both Fox and Ward will be honored this year as their names will be added to the memorial wall with all the other officers who have died in the line of duty. Redmon said WCSO is also brainstorming with community partners to plan a community day in the summer.
Michelle and George Ligon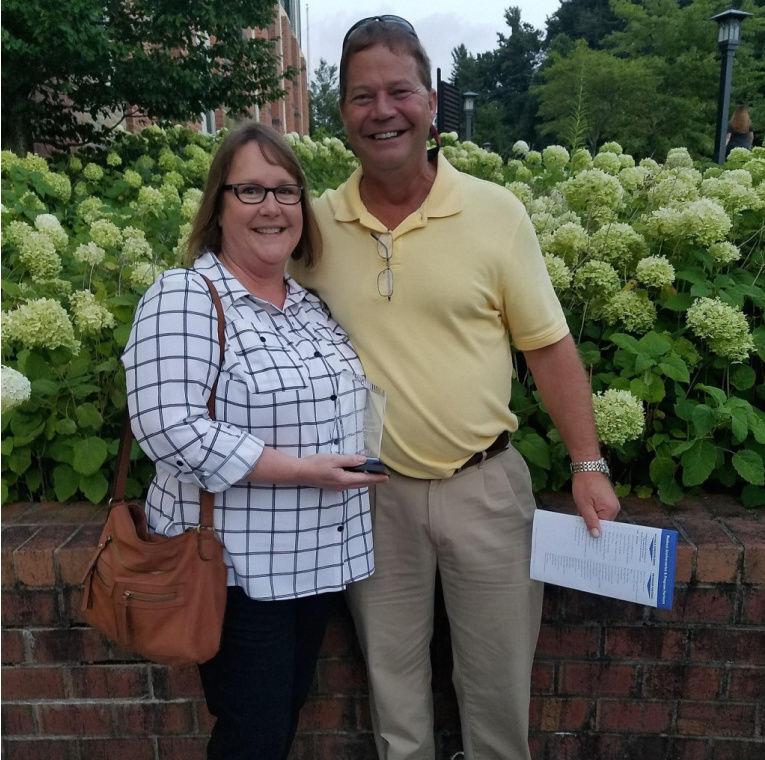 "How do you begin a healing process? Because it still feels fresh. It's been a year, but it feels very fresh," said Sam Glass, brother of Michelle Ligon.
For both Glass and George Ligon's siblings, Lucy Heffelfinger and Wendell Ligon, a hope remains that the tragedy will help bring a focus to mental health.
"I have a lot of friends who have family members that are law enforcement officers and how often they get caught up in responding to mental health calls or having to sit in emergency rooms for several days, waiting on a bed to open," Heffelfinger said. "I think it's very easy for people to be angry and try to find the nearest target to direct their anger toward, whether that be law enforcement, whether that be a mental health care system that's broken. And yet, I don't want people to be stuck there."
All three family members want a change in how mental health is treated. Glass said that he hopes there can be some kind of intermediary person that can come in when someone is having a mental health crisis that is trained to see and recognize those signs and help.
"I'm pretty sure that everybody close to Isaac, at least in our family, kind of knew that he was not the same guy anymore," Glass said.
Glass said that if there could be an intermediary that could reach people in a mental health crisis would help many people. He added that mental health community projects in Watauga County, like the Community Mental Health Project and the Watauga Compassionate Community Initiative, are great and helpful to the community.
Wendell Ligon knows there's a stigma surrounding mental health. He said he's been guilty of being judgmental himself or not being as care or loving as needed at that time.
"(Let's) see if we can make some progress on how to deal with situations like this that hopefully don't happen again," Wendell Ligon said. "If we could have known or done something different, we would have."
Wendell Ligon said he and his sister were not aware that Isaac Barnes had mental health issues before April 28. He said when he was going through the stages of grief, he felt some resentment toward his brother for not talking to him about the issues.
"Why didn't you talk to me? Why didn't you tell me some stuff was going on? Maybe I could have helped. I don't know, maybe not. But he didn't tell me, and he and I were real close," Wendell Ligon said.
He said he realized that maybe his brother didn't talk due to that stigma around mental health, which is something he hopes changes. He also said that he liked what Rev. Kathy Beach said during the Ligon's funeral.
"Talking about mental health issues is complicated. It's messy. It encompasses a whole lot of stuff," he said. "How can we be more loving? You know, how can we reach out and say it's okay to to talk about this stuff? It's tough stuff to do. It's hard to be vulnerable. It's hard to open yourself up and walk into somebody's office, whether it's a DHS office or Sheriff's Office or the nurse's office or whoever, and say 'I'm hurt. I need some help.'
"It's a complicated thing and it is messy. I do know that there is hope. And I do know that there is good in all of us and my prayer is that God take this tragic situation and use it for his good."
George Ligon was described in his obituary as someone who "never met a stranger. He loved life, family, laughter and fun. He always took the time to listen if someone needed a friend. He had a big smile, warm heart and great hugs. He served as Branch Manager of Terminix of the Triad for more than 20 years. He was a member of Rumple Memorial Presbyterian Church in Blowing Rock. He loved the Lord, Appalachian State sports, Tar Heel basketball, fishing trips, the beach, MerleFest, and being with Michelle."
Michelle Ligon was described in her obituary as someone who "loved volunteering, especially for Horn in the West. She made period dresses to wear as she served as attendant at the various events. George was supportive, made chili to sell and helped Michelle plant a beautiful flower display on the property."
All three family members also said the community has also reached out to them tremendously since April 28, as they all said both George and Michelle Ligon loved the Watauga and Boone community.
"One of the things that was so meaningful to me, and I don't have it with me in the office space but clearly it was either neighbors or area church people, many people painted fairly big rocks, and either painted scripture verses or words of encouragement on there, and left them kind of piled around the end of the driveway as a memorial," Heffelfinger said.
Wendell Ligon said that he and his sister did not feel a part of that community until this happened. He said that from the Quiet Givers organization helping them to Rev. Kathy Beach reaching out or talking to his brother's former employer, Wendell Ligon said he's developed friendships in the community because of it.
"They've reached out to us and made us feel a part, even though we don't live in Boone and we're not that close," Wendell Ligon said. "The fact that somebody texted you that they know Christmas is hard because George isn't there this year. Or his birthday or whatever. Just reaching out and letting us know and being concerned and praying for us. That's made us feel a lot more part of the Boone community."
With Both Michelle and George Ligon both being active in the community, Wendell Ligon said he knows the whole community was greatly affected.
Sam Glass said that the community has been very supportive. He said that his message to the community on this one-year anniversary is to band together and do "what we can so this doesn't happen again."
"Let's figure out a way to somehow bridge the gap between mental health workers and law enforcement, and let's find a role that is suitable to be able to reach folks who are in need because, again, the mental health crisis is not going away," Sam Glass said.
https://www.wataugademocrat.com/news/local/family-law-enforcement-reflect-on-one-year-anniversary-of-april-28-shooting/article_407588a8-6e9f-5ca1-aca8-ff882bd7534b.html