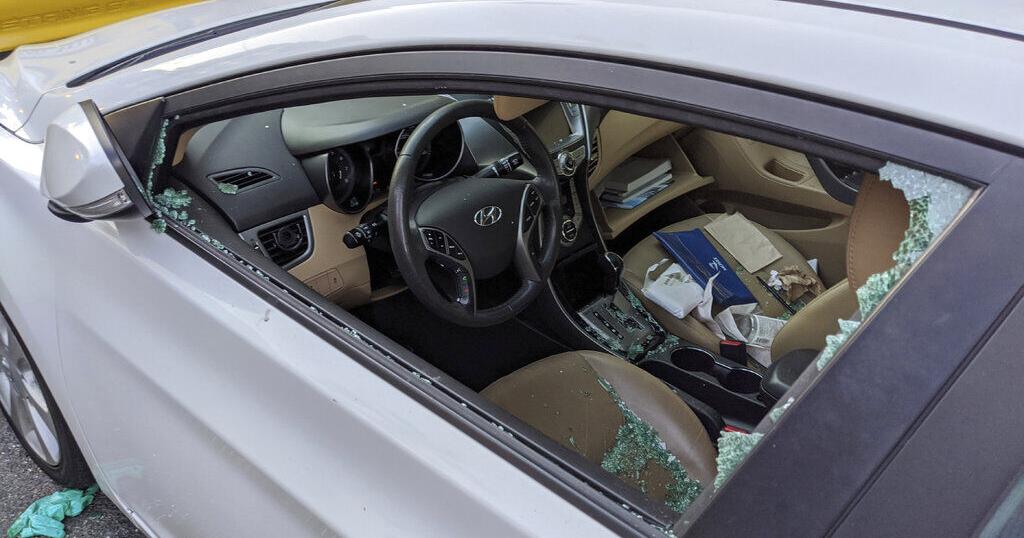 A year after Colorado's legislature overhauled crime laws, lawmakers are working to roll back a portion of the legislation that effectively eased the ability of individuals convicted of a wide array of felony offenses to possess a gun.
One of the bill's sponsors said last year's crime overhaul went too far, and law enforcement advocates argued that new law, which took effect on March 1, is yet another policy that will make Colorado's streets more dangerous amid an already-soaring crime rate.  
"It was a huge bill. It was like an encyclopedia volume. So, they were bound to make a mistake," said Rep. Matt Soper, R-Delta, a cosponsor of House Bill 22-1257, which adds about 60 felony offenses back on the list of convictions that make it illegal for a person to own a gun.
Adding more offense, Soper said, targets violent felonies that never should have been taken off the list. 
"Just by definition alone, these are known people to the criminal justice system who are a danger to society and continue to be a danger to society," Soper told Colorado Politics.     
If enacted, the proposal would amend SB 21-271, last year's dramatic overhaul of misdemeanor laws that narrowed down from hundreds the number of felony offenses under which a person, if convicted of that prior crime, would face additional penalties for possessing a gun to only charges identified in the Colorado's Victim Rights Act. The latter includes about 50 of the most heinous and violent crimes, such as murder and rape. 
HB 22-1257 would add to that list, among other offenses, sexual exploitation of a child on the internet or operating a child prostitution ring; arson; aggravated cruelty to an animal; terrorist training; insurrection or advocating for the overthrow of government, and membership in an anarchist or sedition group; human smuggling; and intentionally setting a wildfire. The bill would also penalize practicing specific professions, including engineering, physician assistant and pharmacy, without an active license. Other parts of the legislation deal with probation and theft of public benefits.
Last year's 300-page-plus law, which received the unanimous support of senators but divided the House along party lines, resulted from the work of the Sentencing Reform Task Force of the Colorado Commission on Criminal and Juvenile Justice, which successfully sought the reduction of misdemeanor classifications to two, the number of petty offenses to one, and the creation of a new civil infraction classification.
Supporters of the 2021 law argue that, prior to the change, Colorado's sentencing statutes irrationally swept up too many people, including individuals who made mistakes while they were younger but could now not pick up a gun to protect their homes or go hunting without risking additional charges. Indeed, SB 21-271 became that rare law that scrambled ideological presumptions with progressives, traditionally opposed to expanding First Amendment rights, agreeing to do so for convicted felons and Republicans — typically against easing penalties for crime — backing the bill, which some argue is a major step toward rectifying sentencing laws they argue discriminately affect people of color.       
The House on Friday approved HB 22-1257 by a vote of 41-23. The Senate is expected to also pass the measure, given its wide support from law enforcement advocates, criminal justice reformers, and experts who offer diverse philosophical views and champion a wide array of sentencing policies.  
The bill's enactment, should it happen, is unlikely to be the final say on the matter. 
Already, some district attorneys are pushing to add more crimes to the list, specifically peddling drugs and committing aggravated motor vehicle theft.
John Kellner, the district attorney for the 18th Judicial District, reminded legislators during a committee hearing this month about the perniciousness of peddling fentanyl, which is fueling America's drug overdoses and deaths.     
"Under this statute that went into effect today, and, frankly, what's missing from the amendment to that statute in this bill, is a drug dealer, let us say, who is selling 225 grams of fentanyl, which has the potential to kill what — 100,000-plus people?" Kellner told members of the House Judiciary Committee, which advanced HB 22-1257. "If that person is a convicted felon for that offense, starting now, March 1, that person … cannot be charged under the felony possession statutes, and that is a gap that we absolutely need to fill."
The same goes true for somebody who has been convicted, even multiple times, of aggravated motor vehicle theft, said Kellner, who noted that Colorado leads the country in vehicle theft. 
From 2019 to 2021, Colorado's property crime rates increased by 20%, motor vehicle theft rates rose by 86%, the rate of commercial burglaries increased by 48% and the overall violent crime rate had a 17% increase, according to data compiled by the Colorado Bureau of Investigation.   
To emphasize his point, Kellner noted a case in Littleton in which an officer was shot eight times and nearly died. The person alleged to have shot that officer, under the law that just went into effect, would not have been prohibited from possessing that firearm, he said.
"This bill puts officers at risk on the streets and leaves a dangerous gap," Kellner said. "Unless this bill is amended, there will be more potential shooters with gun in hand on the streets."
That lament is not new.
In interview with the Denver Gazette last month, Denver Police Chief Paul Pazen said the legislature's decision to pass SB 21-271 has come at the "worst time possible — at a time we're seeing gun violence at levels we haven't seen since 1981."
"Our shootings are up 50% again over our three-year baseline," he said, adding that, with the new law now in effect, "we're going to have one less substantial tool to address felons in possession of firearms."
Mitch Morrisey, a former district attorney for Denver County, echoed the sentiment during a forum hosted by the Colorado Politics and the Denver Gazette earlier this month.
"Everybody is concerned about this violent crime rate. Everybody is concerned about people shooting each other with guns, but yet the legislature reduced what was already one of the weakest felony with a gun statutes in the United States and makes it weaker," he said. "We're the State of Columbine, we're the State of the Aurora Theater Shooting, we're going to jump all over guns, and then you reduce the laws that have to do with guns in your state. It makes no sense to me." 
But for Christie Donner, who is the executive director of the Colorado Criminal Justice Reform Coalition, what didn't make sense were the sentencing laws prior to last year's crime overhaul bill.  
"What went too far was the old law that restricted too many people's constitutional right to bear arms without a rational basis. That's what the original bill in 2021 was trying to rebalance," she told Colorado Politics in an email.
She added: "I don't know a lot about the actual research in whether these type of laws actually have any impact on reducing weapons-related crimes. But common sense tells us the one thing we know for sure in America is that pretty much anyone who wants a gun can get a gun, whether it's legal or not. We've heard so many stories over the years from people who got a felony conviction (for example for drugs or a property crime) when they were younger and because of POWPO" — referring to Possession of Weapon by Previous Offender statutes — "have never been able to go hunting with their kids, like their dads did with them. Or, people who just want to own a weapon for personal protection in their home."
Correction: Last year's law, SB 21-271, did not allow a person convicted of a felony to legally own a gun. Instead, it removed hundreds of felony offenses under which a person, if convicted of that prior crime, would face the additional charge of possessing a gun to only charges identified in the Colorado's Victim Rights Act. The story has been updated to reflect that technical distinction.
https://www.coloradopolitics.com/csg-web/house-oks-bill-rolling-back-2021-law-that-eased-gun-restrictions-for-felony-convictions/article_0f9d3a06-9d64-11ec-9c31-df9afd3bac91.html